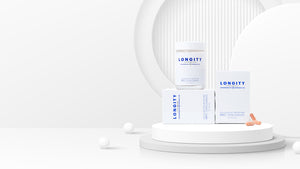 LONGITY NMN-C® SUPPLEMENT
Unlock your
cellular repair
A cellular approach to healthspan
Dr. Eric verdin & alessia grozio interview
Learn more about NMN-C® and NAD+ in this video interview.
THE MOST ADVANCED NMN FOR HEALTHCARE PROFESSIONALS
NMN-C® is 99.6% pure, highly stable and proven to have a higher tolerability than other molecules promoted as NAD+ boosters. NMN-C® brings pharmaceutical-grade technology, unmatched levels of scientific rigor and transparency to cellular optimization solutions.
Longity is designed to leverage a direct uptake pathway that transports NMN across cell membranes directly into the cell via the Slc12a8a enzyme. Slc12a8 is a gene encoding NMN transporter with a critical role in regulating intestinal NAD+ metabolism.
An OECD 408 toxicology study – the first of its kind to be undertaken on Nicotinamide Mononucleotide NMN –demonstrated NMN-C® has a NOAEL tolerance level 3x higher than Nicotinamide Riboside NR and almost 7x higher than Nicotinamide NAM.
Recommended by leading physicians
Pr Olivier Rascol
A neurologist specialized in Movement Disorders, Professor of Clinical Pharmacology at the Toulouse University Hospital since 1993.